Hello, I'm Aimée, a registered Hove & Brighton Cranial Therapist (also know as Craniosacral Therapy or CST). Please note I am no longer an osteopath or cranial osteopath as I voluntarily deregistered with good standing in 2020).
I absolutely LOVE my job, because helping people get out of pain and back to enjoying their lives again is hugely rewarding. I enjoy working with people and finding out what makes them tick, and looking at them as a whole person (not just a 'back' or a neck').
One reason I find my job so fantastic, is I get to help all sorts of people from all walks of life, of all ages. Hence, it really feels like I'm helping not just individuals, but also their families and the community. If I can help a self-employed parent get back to work quickly it takes the strain off the family. If I can help soothe and relax a baby, then the parents and siblings of that baby will be much happier.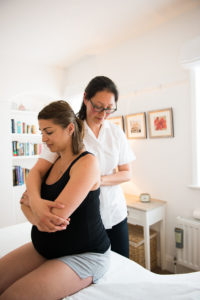 I first came across osteopathy when I hurt my back doing sport at school. I was so grateful to my osteopath for getting me out of pain, and helping me back to my normal life.
But I haven't always been a cranial therapist. I used to work in the pharmaceutical industry and then as a project manager in banking. I met some great people in these places, but just felt I wasn't doing what I was meant to do. I wanted to do something useful that could help people.
Being from a medical family, I started looking into healthcare and then decided osteopathy was for me. I hadn't forgotten how osteopathy had helped me when I was younger. I realised that as an osteopath you get to spend time with your patients, looking at them as a whole person, and that this approach was right for me.
Going back to study as a mature student was tough and brought its own challenges. But it was worth every minute. When I qualified I enjoyed treating adults, but was then also interested in treating babies and children too.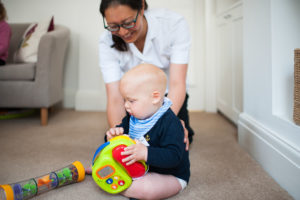 However, I realised that for me personally I wanted a lot more in-depth training to do this. Hence with a deep intake of breath, I started the world-renowned postgraduate paediatric course at the Osteopathic Centre for Children in London. It was a very intensive course but again worth every minute.
I work from home in Hove, and I love the fact that people tell me they find my clinic calming and relaxing. I'm proud to offer people a sanctuary and time just for them. We hardly get that any more in modern life.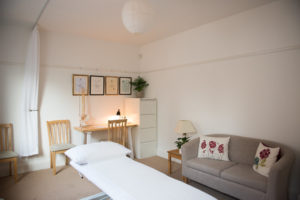 When I qualified I originally worked in clinics in Essex and ran my own successful clinic in Southend. I moved to the South coast in 2013, and worked in Worthing at Tarring Osteopaths for 4 years, and then started my own clinic in Hove.
Then in 2020 I decided to deregister, because I wanted to be able to move more in a direction that would allow me to grow my clinic in a way that was more 'me', while still providing the exacting standards of care I have always done for my patients.
Over the years I have loved my CPD courses (continuing professional development) , which over the years have been in the cranial field with the Sutherland Cranial College of Osteopathy and the Biodynamic pathway. I feel a particular affinity with the Biodynamic Cranial work, and this approach features heavily in my work.  I continue to do these cranial courses and learning today.
Over this time I'm fortunate to have helped thousands of people in pain. I'm still grateful to have such a rewarding career.